They say Summer bodies are made in the Winter. Have you been slaving away at the gym but can't shed that stubborn fat? Feel Good Laser & Skin Clinic, Richmond, have invested in the latest non surgical liposuction technology that beats sweating it out in the gym day in and day out – the UltraShape Power. UltraShape is the ultimate non surgical liposuction treatment in Melbourne due to the fact that it actually destroys fat cells, whereas exercise only shrinks fat cells.
In this article we explain the UltraShape Power technology and how you can achieve a slimmer, more contoured figure comfortably, in your lunch break.
UltraShape Power – Best New Technology for Non Surgical Liposuction
UltraShape Power is 20% more powerful than its predecessors. It works by emitting pulsed ultrasound energy that precisely targets only subcutaneous fat at a controlled depth, meaning treatments are painless, surrounding tissue, nerves and blood vessels are unharmed.
UltraShape Power for effective non-invasive body shaping and contouring has been clinically proven in more than 350,000 treatments worldwide. It destroys fat cells which are then safely cleared by the body's metabolic processes.
Unlike other alternatives which can leave your skin with a frozen look, treatment with UltraShape Power means you can go straight back to work or your normal routine without the worry of visible signs of treatment.  A session takes just over an hour, so you can have it done in your lunch break.
Book A Free Consultation     Ask A Question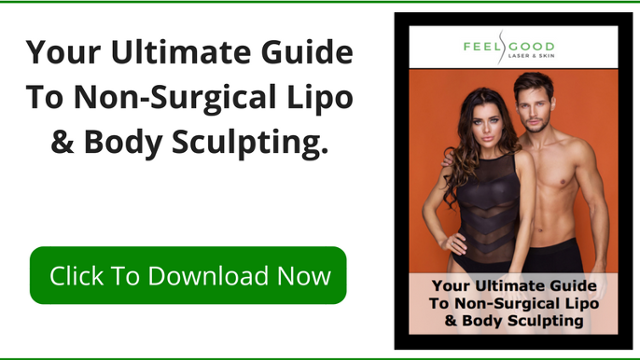 Benefits Of UltraShape Power 
Body contouring
Fat cell destruction
Visible and fast results
Comfortable and painless
Non Surgical – no anaesthetic, no incisions, no downtime
Suitable for most body shapes
UltraShape Power typically produces initial results just 2 weeks after the first treatment with measurable fat layer and circumference reduction results after 3 treatment sessions so you can quickly start to look and feel good!
If you're tired of going to the gym with little effect, then we can help. The expert team at Feel Good Laser & Skin Clinic have the latest technology for non surgical liposuction, cellulite reduction and a range of other body and skin treatments.
Next Steps
If you are considering non surgical liposuction Melbourne or body contouring, at Feel Good Laser & Skin Clinic we offer a free consultation where we can explain the technology and answer any questions you have. You can click on the buttons below to ask a question, review pricing or book a free consultation. Alternatively, you can call our experienced and friendly team on 1300 896 834.
Book A Free Consultation     Ask A Question
Other very popular treatments are cellulite removal treatment in Melbourne, acne scar removal treatment in Melbourne, laser hair removal Richmond and facial rejuvenation Melbourne.