We all have our reasons for doing things, for example, you start exercising to get fit or improve the shape of your body, you do a course to become more knowledgeable in a certain area or field, you have skin treatments to improve the appearance of your skin or to boost your self-esteem.
At Feel Good Laser & Skin Clinic, we hear lots of reasons why people choose to have their acne scars treated. In this article we list the top 5 reasons why people choose Sublative acne scar treatment in Melbourne, but first let's look at exactly what Sublative treatment is.
Sublative Acne Scar Treatment Explained
Sublative treatment works to remove acne scars by remodeling the scar tissue and stimulating the production of new collagen and elastin. New collagen and elastin helps to smooth out the skin, by strengthening it from the inside out. The key benefit of Sublative treatment is that there is minimal recovery period, the energy is focused underneath the skin, leaving the outer layers of skin intact.
Sublative treatment uses radio frequency to get deep into the dermis (the second layer of the skin) where it is needed to have the greatest impact on the scar tissue. It feels like a warm, prickly sensation and a topical anaesthetic can be used to increase comfort. After treatment you will notice a pink or "sunburn" appearance and we will prescribe appropriate post care.
Top 5 Reasons For Sublative Acne Scar Treatment
Want to remove acne scars for a special occasion or event (eg wedding)
Want to feel better about the appearance of their skin, improve confidence
Safe and effective acne scar treatment, FDA cleared and clinically studied
Safe to use on most skin types
No downtime, minimal recovery period
You can go straight back to your normal routine following Sublative acne scar treatment. Depending on the type and severity of your scars, usually 3 to 5 treatments spaced 4 to 6 weeks apart are needed.
To see treatment pricing, simply click on the button below:
Before & After
You can see acne scar treatment before and after pictures below: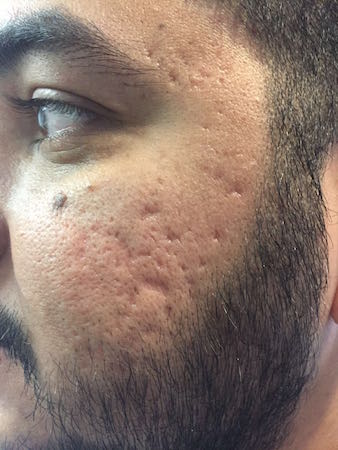 Next Steps
At Feel Good Laser & Skin Clinic we specialise in the treatment of acne scars using the latest technology. We offer a free consultation where we can assess your scars, explain our technology and answer any questions you have. You can click on the buttons below to ask a question or book a free consultation. Alternatively, you can call our experienced and friendly team on 1300 896 834.